Dragon Quest SWORDS : La soundtrack
Tout comme pour les autres épisodes de la saga, Dragon Quest SWORDS possède sa propre soundtrack. L'album n'est malheureusement disponible comme la majorité des autres, qu'au Japon. Cependant, nous vous le conseillons tant les mélodies de cet épisode sont agréables. A savoir que cet album est particulier, étant donné qu'un autre artiste que Koichi Sugiyama y a participé, une première dans un Dragon Quest.
Les pistes de l'album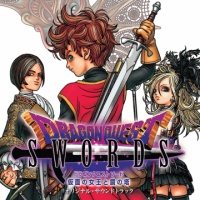 Prix : ¥2200 ~ 15€
Titre : Dragon Quest Swords ~The Masked Queen and the Tower of Mirrors~ Original Soundtrack
Pistes : 27 (1 CD)
Editeur : Aniplex Inc.
Compositeur : Koichi Sugiyama, Manami Matsumae
Date de sortie : 22 Août 2007
Numéro Catalogue : SVWC-7485
Le CD contient 27 pistes pour environ une heure d'écoute. Les tracks 1,2,15 et 19 ont été réalisées par Koichi Sugiyama en personne, et les autres ont été écrites par Manami Matsumae sous sa tutelle. Elle est connue pour avoir travaillé sur des remix de Street Fighter II, ainsi que sur des albums portant sur la saga Rockman.
---
Pistes du CD
1) Overture
2) Intermezzo
3) Alsword Castle
4) Sanctuary
5) The Kingdom of Alsword
6) Come on, let's be off!
7) Go For Broke!
8) Tomorrow Is Another Day
9) Having Fun?
10) Deep Within the Forest
11) Who Is She?
12) Mount Breige
13) Don't Let Your Guard Down
14) A Damp Cavern
15) Healing Power of the Psalms
16) The Spiral Staircase
17) The Masked Queen
18) Time of Mirror
19) Boogie-woogie
20) The Smell of Death
21) Do As You Wish
22) The Great Swordsman
23) Believe in Yourself!
24) History Repeats
25) The Escape
26) You Rock!
27) Finale
Section réalisée par Poppu